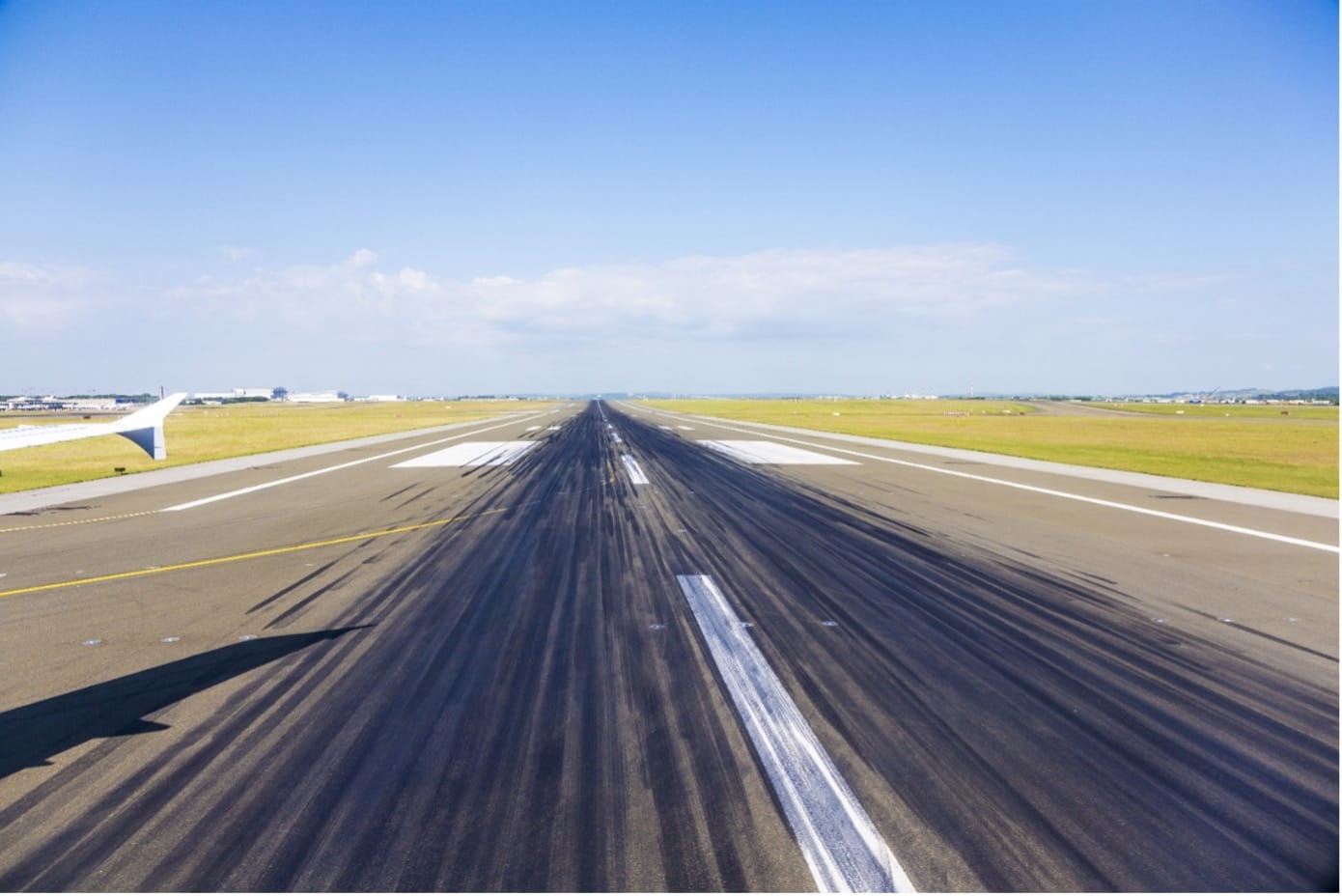 How Runways Survive Planes: Runway Rubber Removal
Whenever an aircraft lands on a runway, rubber from the tyres of that aircraft are deposited and embedded into the landing strip, creating long tyre marks of hardened rubber. This protects both the aircraft and the runway, but the build-up of these rubber deposits from repeated air arrivals is dangerous, as it reduces the friction necessary for aircraft to avoid hydroplaning and skidding upon landing. Build-up of rubber deposits on landing strips are dangerous can cause plane crashes. Negligence in rubber deposit removal was blamed for the crashing of Air India Express Flight 1344 in India on 7 August 2020.
To resolve this problem, airports periodically employ rubber removal procedures, removing the deposits before they become a hazard. Airports remove rubber deposits with a variety of procedures, including chemicals, water blasting, and hot compressed air. In this blog, we're going to explore a few of these methods and see how they work.
Chemicals
Chemicals applied to the affected areas react with the rubber deposits, gradually breaking them down over a period of time. The International Civil Aviation Organization suggests an eight-hour waiting time for chemicals applied to the touchdown area before the area can be considered safe.
Alkaline chemicals are applied to asphalt runways, while concrete runways are sprayed with chemicals containing cresylic acid, benzene, and synthetic detergent. The procedure requires special handling, as these toxic chemicals are harmful to wildlife/vegetation and can damage surfaces if the chemicals remain in one place for too long.
Water Blasting
Also known as water jetting, pressure jetting, or hydro cleaning, this involves breaking down rubber deposits with high pressure water. During the procedure, a water spraying truck blasts water out at a velocity of up to 2800 litres of water per hour. Pressure jetting is ideal as a cheaper and more environmentally friendly alternative to chemicals, although it usually reserved for smaller rubber deposits. Some airports may choose to apply chemical solutions to the rubber deposits first before water blasting, although this procedure is usually reserved for the thickest and toughest of rubber marks.
Hot Compressed Air
In this procedure, a truck carrying a hot compressed air cleaner with a combustion tank, is used to burn and shred away rubber deposits by emitting hot gas from a tank heated to temperatures of up to 1200°C. Carbon deposits left over from the scorching process are collected by a separate truck-mounted brush machine, or tractor.
Shotblasting and Sandblasting
Another method is "high-velocity impact removal" which involves propelling sand or steel abrasive particles at rubber deposits. This method is usually not applied under wet or frozen conditions.
Need to get rid of road marks or rubber?
Try the "Stripe Hog". Armed with 40,000 PSI of needle-sharp water jets and a powerful vacuum recovery system, this next level water blasting technology can remove tyre markings or rubber deposits, without marking your runway or pavement. Traffic Systems Ltd (TSL) is New Zealand's leading distributor of traffic equipment to clients across the country, servicing the civil construction industry and traffic systems market for over 25 years. To find out more about runway rubber removal, or other roadway water blasting services, talk to us today.