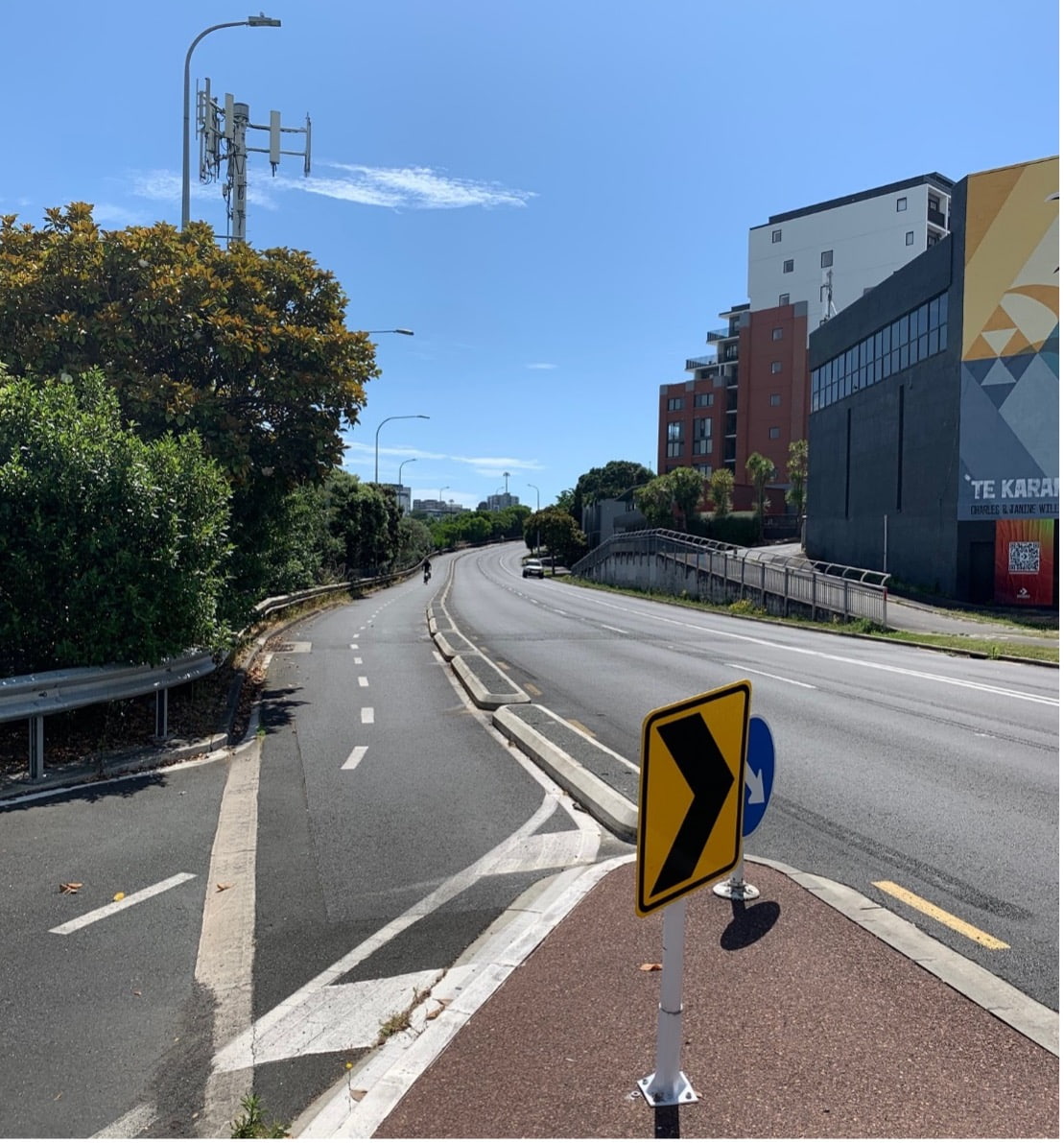 Bike Lane Safety & Design: Ian McKinnon Drive Cycleway Deep Dive
Cycling is increasingly becoming one of the most discussed features of urban design in modern cities as they develop their infrastructure services. But with the increasing prevalence of biking, safety must be considered, as these new bike lanes and cycleways intersect with other modes of traffic like motorists and pedestrians. In this blog, we discuss some general features that can be used to increase bike lane safety, before taking a deep dive into the design features and benefits of the Ian Mckinnon Drive Cycleway project TSL group installed recently.
Common Bike Lane Safety Features
One of the biggest concerns that commuters have around using bicycles as a way to commute or travel around the city is safety. Many areas in New Zealand cities have shared roads for motor vehicles and cyclists, and this leads to concerns around collision and injury. Therefore, careful implementation of effective bike lane safety features has become a priority for urban planners and designers looking to improve their city's transport infrastructure services. Here are some of the bike lane safety features that can be applied to new and existing cycleways:
Physical Road Barriers
Bollards, barriers, vegetation, trees, and raised kerbs are commonly deployed features for new and revamped cycleways. They aim to create physical deterrence between cyclists and motor vehicles, or cyclists and pedestrians. This is one of the more effective ways to ease fears over using bicycles in main cities due to the visual distinction and reassurance they provide.
Symbols and Cycleway Markings
In cities where a cycling ethos to transportation is being built up over time, the development of cycleways can intersect with a range of different original environments. Cycle lanes can go from the road to up on the sidewalk, or even through a park environment. That is why clear symbols and legends are used to clearly delineate which lane is meant for cyclists. This keeps pedestrians and motor vehicles out of cycle lanes and vice versa, improving safety for all parties.
Pavement Surfaces
If you hire asphalt contractors in Auckland, they will be able to stress to you the importance of a quality cycleway surface for safety. Like symbols and markings, you can use an applied coloured surface to indicate the start of a bicycle-only lane. This can also be used to provide a higher friction surface which can be especially important in a city with steep hills and plenty of rain like Auckland.
Traffic Lights and Signage
As much as you separate the different traffic types from one another, there are still going to be times where they need to intersect or merge to provide the services they are intended for. Clear signage can indicate merging lanes, give a heads up for the start of a new lane type, or provide safety warnings when approaching more hazardous areas. Traffic light systems can provide cyclists with the same timely peace of mind they give motorists by opening windows for them to cross intersections or merge into existing traffic flow.
The Ian McKinnon Drive Cycleway Project
The Ian Mckinnon Drive Cycleway was a project completed by TSL Group in 2018. We were tasked by Auckland Transport to provide the infrastructure services for the project. The cycleway was another step for the increased presence of dedicated cycleways in the central city area and aimed to provide a bike lane that separates from the motor traffic on the road.
These were some key considerations undertaken when the project was designed and implemented:
Existing Environment & Layout
The Ian Mckinnon Drive Cycleway is a great example of a cycleway designed to travel through multiple different environments, namely a park and an existing multi-lane road. The first section of the cycleway is 4m-wide and 200m-long, going through Suffolk Reserve from Takau Street, joining the western edge of Ian McKinnon Drive under the Newton Road Bridge. The route was chosen, and the construction was undertaken in a way to minimise impact to the existing environment.
Section 2 of the cycleway becomes adjacent and then adjoined to Ian Mckinnon Drive, making use of an existing portion of the road to provide the space for the lane. This meant that there was very little additional impact to the surrounding environment due to the lack of any road widening or additional space added to the main road.
Key Safety Features
Section 1 of the cycleway is made of a high-quality concrete path with good drainage and a durable surface, providing a smooth, safe ride through the park for commuting cyclists. For sections 1 & 2 of the cycleway, clear symbols and markings were applied to the surface, creating a clear separation of pedestrian and cyclist routes, lowering the risk of collision.
For section 2 of the route, where the cycleway comes in proximity with the road a metal barrier and plant life have been placed between the two as they begin to link up. When the cycleway does connect with the road a raised curb has been installed, providing peace of mind for cyclists and motorists alike.
The Many Benefits of the Cycleway
The Ian Mckinnon Drive Cycleway project was delivered to a high standard and within stakeholder budget requirements. The installation of the cycleway provides a safe cycling environment by separating more of the road from cyclists. It also saves roughly 2.5 minutes of journey time for cyclists which can add up significantly over time for the many cyclists who use it to commute daily.
Both cyclists and pedestrians no longer need to wait at the lights at Upper Queen Street & Ian Mckinnon Drive, leading to a more streamlined commuting and travel experience. The project was also undertaken in consultation with the public, so that community concerns were addressed, and the cycleway was constructed with both residents and commuters in mind.
Infrastructure Services Delivered to High Standards
If you are looking for a reliable infrastructure service provider who has a track record of overseeing high-quality developments like the Ian Mckinnon Drive Cycleway, then get in contact with TSL Group. We provide a range of services from traffic management to being the top asphalt contractor in Auckland. Discuss your project with TSL today.